Our Water Heater Repair Porter Ranch services by Trifecta Plumbing is here to aide you for your 24 hour plumber needs. Call us when you are having an emergency water heater repair issue if you are located in CA. We stay open to be able to aide you when your time of need is highest. We know a water heater is crucial to providing you your hot water needs. We also can aide with other water heater issues such as a tankless heaters and your sewer line repair issues.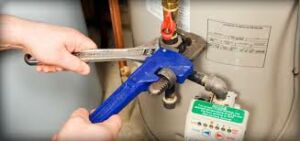 Tankless Heater -Water Heater Repair Porter Ranch
When you live in the San Fernando Valley and have had issues with your water heater needing repair in Porter Ranch we want to be the service you call to have your issue fixed. The water heater you have is one of your most relied on parts in your home.There is no fun in needing hot water and not having it due to your water heater not working properly. Sometimes simple replacements are all that is needed or a new water heater may be needed.
Our Water Heater Repair Porter Ranch Hills Services Include
Residential Gas Water Heaters
Residential Electric Water Heaters
Hybrid Water Heaters
Commercial Gas Water Heaters
Boilers
Tankless Water Heaters
Insta Hot aka On Demand – point of use heaters
Power Vent Water Heaters
Direct Vent Water Heaters
Is Your Water Heater Leaking from the top of the tank?
A water heater leak coming from your top of the tank can be one of several types and it doesn't necessarily mean the water heater needs replacement. It can be a water supply line and  It can be a  replaced.
Emergency Water Heater Repair Porter Ranch – Fixtures Pipes.
These Water heaters come equipped with a drain valve towards the bottom of the water heater. These drain valves are designed to serve as the maintenance port for flushing of sediment build up during your yearly maintenance service. Due to its location and close proximity to the sediment build up – they are prone to leaking.
Save
Save